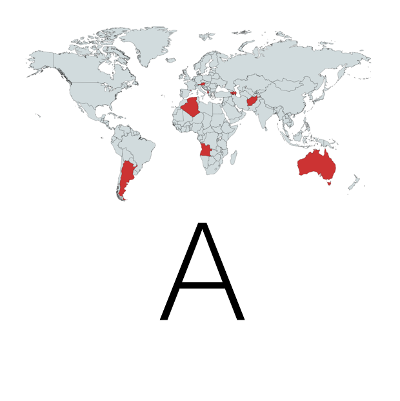 A-Countries… finished!
July 30, 2019
From Afghanistan to Azerbaijan: 11 stops, conflicted characters, drugs, mysteries, and a love story that captured even my heart.
I have finished reading a book from every country starting with A, so it's time for a little recap! I started this project with few concrete intentions or expectations of what would happen, except that I wanted to broaden my reading horizon in a systematic way.
What I have learnt so far: 1) it is not always easy to find a book from a specific country, and it becomes even harder when you try to find something you find really interesting; 2) I am very lucky in that I am able to read English translations as well as German translations (and that it is much more common in Germany to find books from all over); 3) I generally don't like romance novels, and when I do, I don't consider them romance novels.
The Books
Afghanistan: The Trauma of War
---
Albania: Women and Politics
---
Algeria: Romantic Self-Exploration
---
Andorra: Imagine a Better World
---
Angola: Hiding from the Revolution
---
Antigua & Barbuda: Simple Love
---
Argentina: Drugs, Violence, Poverty
---
Armenia: A Modern Odyssey
---
Australia: Cults, Snakes, and Kidnapping
---
Austria: Roadtrip with a Corpse
---
Azerbaijan: Love, Religion, Politics
---
Looking Back and Looking Forward
Even if I never make it all the way to Zimbabwe, I'm already super happy with the books I've discovered through making myself look beyond my immediate horizon. I read about life after the collapse of the Soviet Union, life before the Soviet Union, a magical story from Angola with superbly intertwined characters, and trying to escape the poverty of an Argentinian ghetto.
Now, it's on to the B-countries; I have quite a few lined up already, but if you have hot tips for anything after Belize (see this list, for example), do let me know! Considering how long it took me to read through the 11 A-countries, I hope to be finished with all the B-countries by the end of the year – yes, it takes a long time, but this world is big and very segmented. First, I will dive into The Bahamas with Life On A Rock by KA Albury. My last Carribbean book was rather disappointing, so let's hope this one's more entertaining!
You May Also Like
August 18, 2019
May 7, 2020