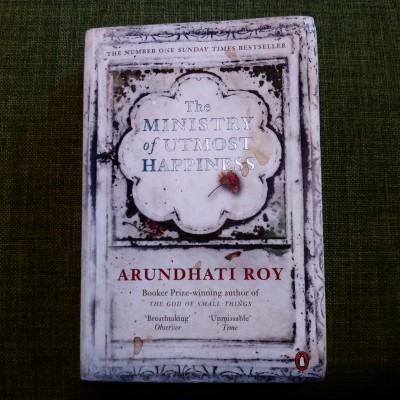 The Ministry Of Utmost Happiness // Arundhati Roy
December 18, 2020
Oh, what a disappointment this book was. I read The God Of Small Things many, many years ago and still have fond memories of it, but while I got through The Ministry Of Utmost Happiness, I couldn't find my way into the story at all, and found myself utterly not caring about the plot or characters.
There are two main story lines: one about a hijra, Anjum, who lives in a run-down cemetery, and Tilo, who seems like a depressed Mary Sue/manic pixie dream girl character to me. But what exactly are these story lines? Well, there's something about a baby that gets stolen and later grows up on Anjum's cemetery, there's a lot of talking, memories, and allusions to the Kashmir conflict, there's a nested love story around Tilo, who is not classically pretty but who allegedly everyone immediately falls in love with.
Stylistically, this book comes crashing down on you like life has crashed down on the characters. The writing is convoluted, jumping from one thing to the next; a nice way of describing this might be as a collage of loosely related scenes.
Maybe I could have enjoyed this book better if I knew more about the Kashmir conflict. Or maybe if I had been able to relate to any of the characers. Or maybe if I didn't regularly read 20 pages to then ask myself what I had just read and didn't remember a single thing. Or maybe there is just no way I could have ever enjoyed this book.
---
Title: The Ministry Of Utmost Happiness
Author: Arundhati Roy
First published: 2017 (2018)
You May Also Like
June 11, 2019
March 7, 2020