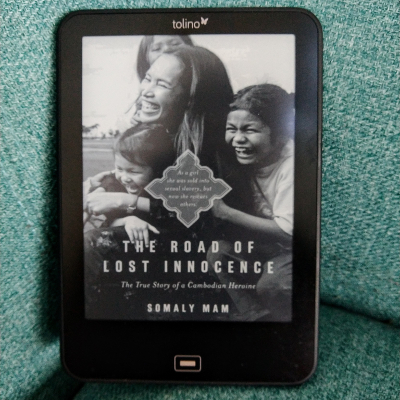 The Road Of Lost Innocence // Somaly Mam
June 13, 2020
One woman's fight against forced prostitution
Time to take off for my journey through the C-countries! We're starting in Cambodia*, with a book that is subtitled The True Story Of A Cambodian Heroine. Ah, well. It turns out that there is quite some controversy about what exactly is true about Somaly Mam's story and what isn't – this controversy does not make this book any less impactful though.
In The Road Of Lost Innocence, Somaly Mam recounts her story from an early childhood growing up in the Cambodian mountains to living with a man called the "grandfather", to whom she basically acts as an unpaid domestic servant from an early age until he sells her into slavery in Phnom Penh. After years of prostitution, Mam marries a French man, and together they found AFESIP, an organization to rescue young Cambodian girls and women from prostitution slavery.
The book is easy to read – that is style-wise, not content-wise. The directness and urgency with which Mam talks about the horrors of rape, forced prostitution, and gang violence. Whether her story is true or not is not a settled business (see the Newsweek article that started the scandal about Mam's alleged dishonesty and a rebuttal in Marie Claire), Somaly Mam has undoubtedly done an immeasurable amount of work for women in Cambodia and for bringing their issues to the attention of the global public.
I would absolutely recommend everyone to read this book.
---
Title: The Road Of Lost Innocence – The True Story Of A Cambodian Heroine
Original Title: Le silence de l'innocence
Author: Somaly Mam
Translator: Ruth Marshal
First published: 2005 (2008)
---
*Attentive readers might notice now that I have skipped over Cabo Verde – the reason for this is that the book I set out to read (Das Testament des Herrn Napumocena by Germano Almeida) made me fall asleep more times than I could bear and I haven't found a replacement. I will get back to Cabo Verdo some time.

You May Also Like
October 13, 2019
August 22, 2019
July 27, 2019